Apply for an Esports Profile
If you want to add your esports profile, you can request it with this formopen in new window.
Create a new profile
Please make sure that you include as much information as possible. Our verification process is strict and incomplete forms will automatically be rejected. You can find answers to frequently asked questions about esports profile request here.
① Main team
Players can only have one main team linked to their profile. At the moment, only team admins are able to add profiles to their team. If you are a member of a team but it doesn't appear in your profile, we advise you to get in touch with the staff of your team. You can find out who is the admin of a team in the profile page of each team.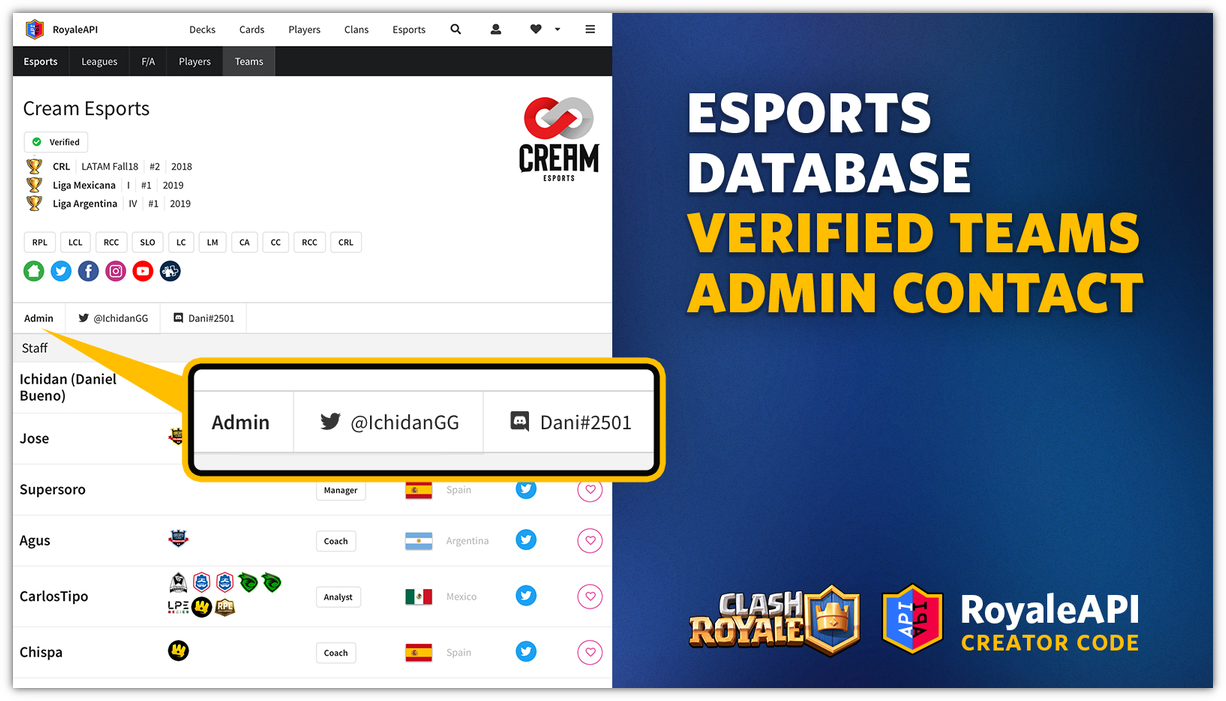 If your team is not yet verified in RoyaleAPI, this contact information might be missing. A staff member can request the verification by following the steps described in the team section of this page. Anyone can request their current team to be removed from their profile. Find out how to do so in the request changes section below.
② Participation in competitions
Competitions associated with RoyaleAPI are displayed in the profiles of their participants while they are active. Once the competition concludes, the participation information is removed. This information is provided by the staff of each event, so changes in this field should be handled through them. Competitions that aren't currently collaborating with RoyaleAPI can apply if they meet our criteria — more information about that in the events section.
③ Achievements
The achievements recognised by RoyaleAPI fall into two different categories: individual and team achievements. For both of them, the basic requirement is a minimum of $500 USD as the total prize pool.
Individual achievements are only available for players.
Achievements are usually awarded to the Top4 players of the event, but depending on the prize pool and relevance we might extend it to more positions. If an achievement that satisfies our criteria is missing in a profile, you can ask our team to add it through this formopen in new window. Please provide as much information as possible for us to verify if the achievement is eligible. Ladder finishes from each season are considered valid since April 2017. The Top10 players can request the achievement to be added in their main account.
Team achievements are available for staff and players.
Only the participants who are active at the conclusion of an event will receive the achievements in their profile. Information of the participants must be provided by the organizers of an event. If the organizers missed a participant that should have received the achievement, please contact our staff with details and sufficient proof to verify this is the case.
④ Roles
By default, all profiles are set to be players. Our currently available roles are: player, manager, coach, analyst, staff, caster and creator. Except for players, these roles will appear in profiles as a label. Team admins choose the roles of all their members. When a profile isn't linked to a team, the role can be changed with our profiles form — more details in the request changes section below.
Note: Profiles can have multiple roles at once. E.g.: Player & Coach.